Opportunities
National Ambulance
UAE Nationals
Emiratisation at National Ambulance
National Ambulance shares the vision and commitment of the UAE Government to developing local talent in the critical health sector. This is reflected in our Emiratisation policy, which is a central pillar of our corporate strategy. Whether working in frontline emergency medical teams or the vital functions that support clinical care, Emiratis at National Ambulance can be assured that their capabilities and skills will be developed to empower them in their careers.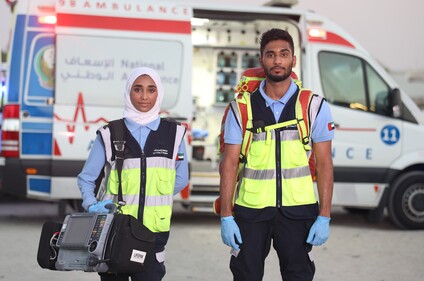 In line with our commitment to support the Emiratisation of the UAE medical sector, over the last five years, we have trained and prepared Emiratis to serve on the frontline of emergency medical service (EMS) as part of our Emirati Emergency Medical Technician (EMT) Programme which was established in 2017.
Currently, we offer student sponsorship opportunities for the EMS programmes at Fatima College of Health Sciences and the Higher Colleges of Technology. Successful graduates will be employed as Emergency Medical Technicians with National Ambulance to work on the frontline in service of their community.
National Ambulance's Sponsorship of EMS Diploma 2022-2023
To be sponsored by National Ambulance, the student must:
be enrolled in the Emergency Medical Services Programme at either Fatima College of Health Sciences or the Higher Colleges of Technology
be a UAE National holding a family book
be between the age of 18 and 35
have completed UAE National Service (for male applicants)
have a valid UAE Driving License
submit valid EMSAT-English score of minimum 1100 or a minimum score of 5 points in IELTS
pass the medical and physical tests required by National Ambulance's Occupational Health Unit
submit a recent certificate of good conduct
be at least 155 cm tall for females and 160 cm tall for males
have the appropriate body weight in relation to height with a Body Mass Index (BMI) ratio between 19 and 32